Welcome to the Affiliate Page of 
THE SCHOOL OF MYSTERIES ONLINE ACADEMY
LIVE AND DIGITAL COURSES IN THE ACADEMY
The Mind Machine – The 4 Pillars of Existence
Award-winning Certificate Premium Course – Live Lectures
NEXT START DATE: 15th of September 2023
SPACES ARE LIMITED
ACQUIRE THE ESSENCE OF CONSCIOUS TOGETHERNESS – Intuitive Intimacy – CERTIFICATE COURSE
Approved Certificate Premium Course – Live Lectures
NEXT START DATE: 3rd of November 2023
SPACES ARE LIMITED
THE COMPLETE LIGHTWORKER MINDSET
Approved Certificate Premium Course – Live Lectures
NEXT START DATE: 2nd of October 2023
SPACES ARE LIMITED
BOOKS PUBLISHED BY AKIA PUBLISHING
THE 4TH WAY – Teaching the Gnostic Knowledge of AKIA Philosophy®
Holistic metaphysical exercises & explanations of life, human nature & universe for beginners through the elements, healing & meditations. 1st book.
The 4th Way – Teaching the Gnostic Wisdom of AKIA philosophy is the 1st book of the Series.
AKIA is the metaphysical understanding of the universe, constantly searching for the holistic knowledge we all carry in our subconscious.
The book contains the first set of lessons with the transcripts of Zsa Zsa's teachings, explanations, exercises and meditations.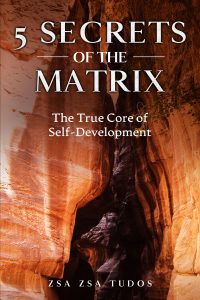 5 SECRETS OF THE MATRIX –  The True Core of Self-development
It is the best life coach. As such, it takes you out of your comfort zone and makes you think. It also presents you with keywords on self-development, individual responsibilities, and global consciousness. The metaphysical, therefore logical structure of the Great Matrix answers urging questions on life and living.
It gives you the push to think, the push to develop, and the push to take responsibility. The push to use your brain.  
CONSCIOUS TOGETHERNESS – A Love Affair
Conscious Togetherness, the title, indicates the most important, however, widely neglected Love Affair, the one that every individual has with Life. It is a metaphysical account of essential interrelations within this subject, without which, nothing is achieved and all effort spent in vain. 
When this relationship is abused and taken for granted, emotional and mental dysfunctions develop and send warning signals to the mind, asking for attention. Depression, suffering empathy, anxiety, fear, insecurity and even everyday stress is the result of the negligence surrounding the subject.  
The root of the matter goes deep into the ground that as the first step, has to be dug up and freed before the healing starts.
Conscious Togetherness – A Love Affair
is a handbook for those who care about quality, health, joy, peace, mental and emotional intelligence, and are set to achieve spiritual greatness.
Enjoy!
DANCING WITH THE DESERWOLF – Life my Eternal Love
Every now and then, life sends us back to the past in order to solve situations and emotions there; make the present more bearable and allow for planning the future. It is a necessity, for the present is based upon the past and the future is the continuation of the present. This exercise should be performed away from the place we call home. The place where we live, holds emotions and attachments for us, and makes it very difficult to put our life into order. I like certain places on Earth where I put myself through self-searching and future building.
This book is the account of such a journey. My aim is to give my readers more than the storyline. I hope that you will also find a key sentence that helps you through your present. Have a nice life!